More personal shipment notifications
Nå ut till fler med personliga fraktaviseringar
Idag är det mest transportörerna själva som marknadsför sig genom spårningsmail och sina spårningssidor.

Det tycker vi att du som e-handlare också ska kunna göra!
Efterfrågat av dina kunder
Did you know
that 90% of consumers e-shopping today want to be able to follow the package.
Did you also know that emails with package tracking has a much higher reading rate than regular newsletters and advertisements where 80% are thrown directly.
Visste du också att en e-handelskund ofta spårar sitt paket flera gånger under resans gång.
Med andra ord så finns det ytterligare möjligheter att nå ut med just ditt budskap och ditt varumärke genom egna fraktaviseringar och personliga spårningssidor.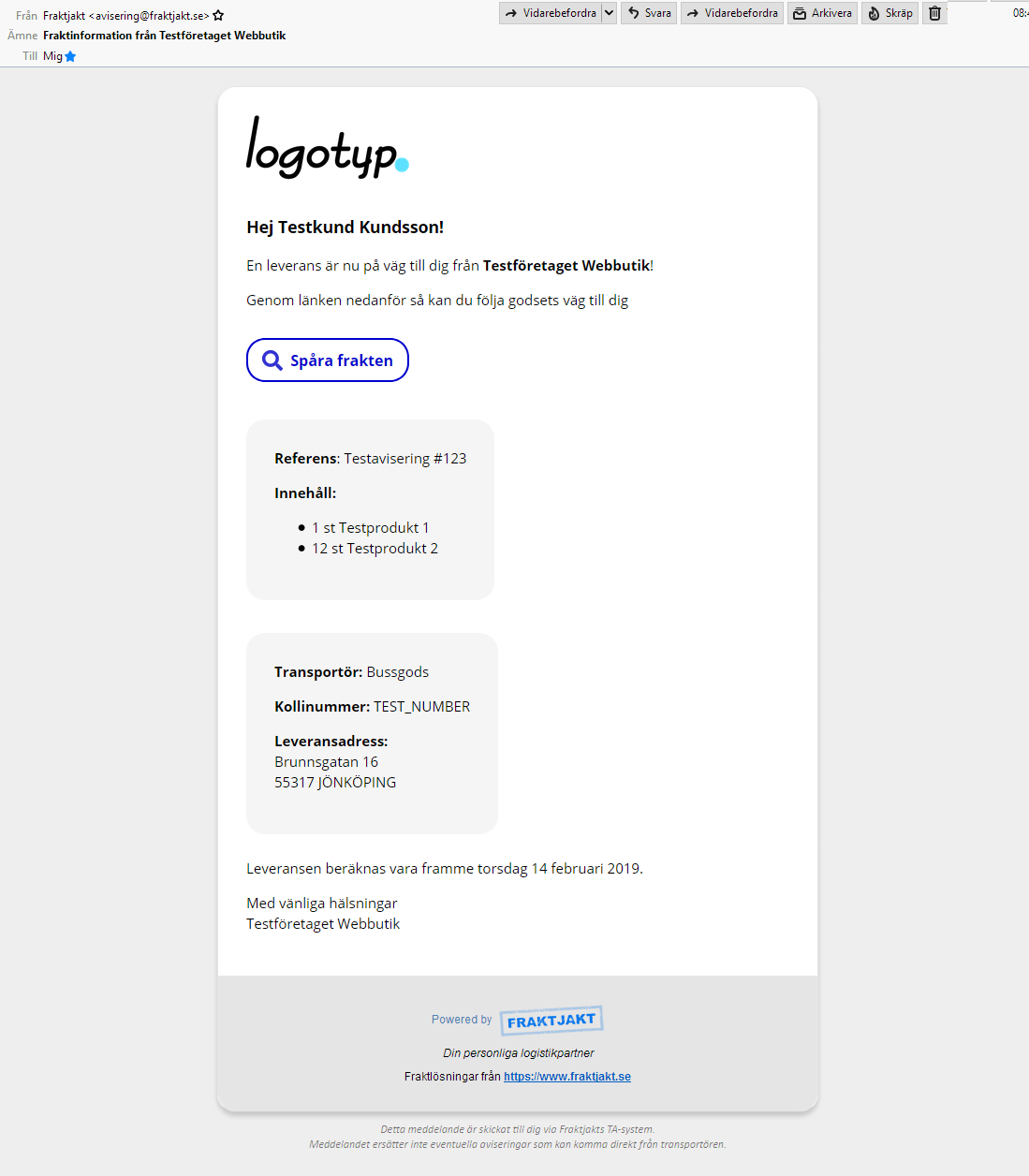 Bli läst i samband med fraktaviseringen
På så sätt får du ytterligare ett sätt att kommunicera både ditt varumärke och erbjudanden mot dina kunder.
Det finns stora möjligheter för dig som bokar din frakt genom Fraktjakt att skicka information till dina kunder genom mailavisering. Du kan även länka in egen logga i dina utskick med mera.
Du bestämmer själv vad dina kundaviseringar ska innehålla. Aviseringarna kan innehålla allt från paketinnehåll, upphämtningsuppgifter och Track & Trace till specialerbjudanden, kurser och tävlingar.
Du har med andra ord kontroll över meddelandena som du skickar, där du får möjlighet att uppmärksamma dina kunder på till exempel kampanjerbjudanden.
Personligare på ett klick!
Det är busenkelt att anpassa våra fraktaviseringar.
Med ett par klick så har du personliga hälsningar och säljande budskap om ditt företag!