Automate your shipping with shipment integrations for
LiteCart
.
Through shipping integrations your tedious and time consuming address inputs can be automated and we can also optimize your package calculations to save money on smaller shipments.
Fraktjakt offers really simple and easy shipping integration. Within minutes you can start creating shipments directly from your orders.

Read more about LiteCart
Integration possibilites for LiteCart
Fraktjakt's Easy order import
Downloadable shipping module
Shipment control for LiteCart
Merchant controlled shipping integration
Customer controlled shipping integration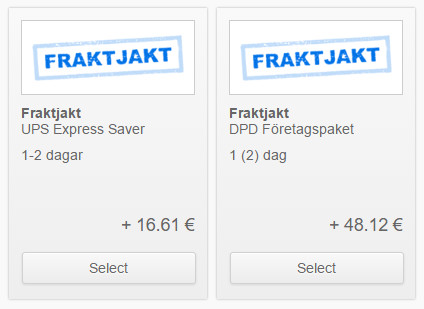 Complete shipping intergration for LiteCart
Download a
ready to install shipping module for LiteCart
, where your company can automate its shipping by connecting your system to Fraktjakt and tranferring addresses, contact information and order details to create shipments automatically.
Order Import for LiteCart
Fraktjakt also includes
Our Easy order import
for a simpler and quicker built-in integration with LiteCart.
Our Easy Order Import is our quickest and simplest solution to integrate with Frakjakt. The Order Import is completely free of charge and no installation is needed. Get started today!
Leap to an easier order import!

An order import is nothing stranger than a connection between your orders and the shipments that you purchase on Fraktjakt.
The Fraktjakt Order Import reduces the risk of errors and saves you time needed to maintin customer records in different systems.
You get an easier, faster and more efficient handling of each and every shipment.
Order import free of charge
Our new easy order import is included free of charge for all members of
Fraktjakt+
.
In contrast to our competitors, we charge you no setup fee for this order connection, no monthly fee, no yearly fee nor any transaction fee per shipment for our order connection. You will only need to pay for your usual Fraktjakt+ membership and the actual shipments!
Get started without installation
The Fraktjakt Easy Order Import requires no complicated installations or knowledge in programming. You only have to upload our customized file to your system and then activate the Easy Order Import in Fraktjakt. Quick and easy. Then your can start importing your orders directly to Fraktjakt complete with adresses and content descriptions.
It can not get easier than that!
You will find all information needed to get started with our Easy Order Import directly under your Webshop settings.
Shipping connections for other systems and programming languages
More systems will be added as needed. Please contact us if you are missing your own system from this list.